Available Now: Linen Dungarees
I'm trying a slightly different format today - you can click through all the pictures in the slide show below, instead of scrolling forever. What do you think? Let me know in the comments or on Facebook (please!)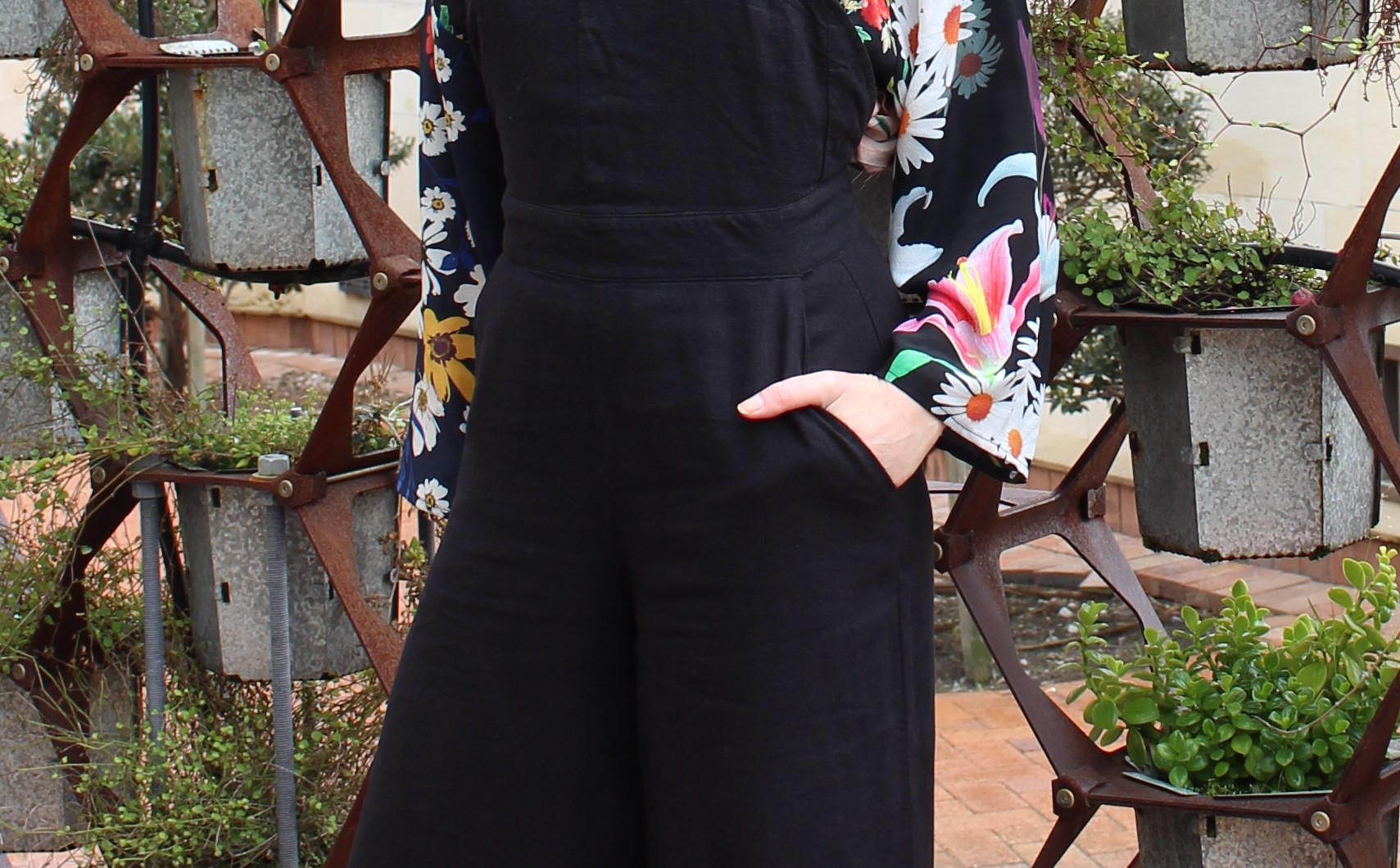 I love a good bit of linen and I love overalls (or dungarees!). In fact, I already own a navy blue linen jumpsuit that I wear to work from time to time, but when I saw this little number, I knew I'd found a great weekend option for the summer time. It's ready to be worn now, and it's also in stores now, so I thought I'd get it up on the blog this week so you can all get a bit of transitional fun in your wardrobes.
I felt somewhat "rural" in this little number, thanks to the bib style front, but as an inner city dweller the gardening opportunities are few and far between. Luckily a few flowers can always be found in my wardrobe, so it didn't take long to satisfy my urge for greenery. You can never take an outfit theme too far, and so it was that I picked up these BenuMade earrings and completed my look – inspired by the farm, but far more city appropriate in the end!
I suspect these dungarees are meant to be more cropped than this, but with the block heels, which I am now favouring for weekend wear, the length still worked. The great news about the overalls is that they have adjustable straps – although they were far too long, it was simple work to move the button several inches on the inside of the back of the strap, and button them up a bit more snugly. I think this is a great design detail from Glassons – no doubt easy enough to manufacture, but hugely useful for us little ones.
As the weather warms up, I'll switch out these red shoes for my very favourite red slides and pop a basic tee under the linen to keep things decent. It will also look awesome with a button down shirt with the sleeves pushed up, or over a bikini when you're beach adjacent. Chuck a denim jacket over it and you're ready for the cooler evening, or push up the sleeves on a blazer and choose some great sneakers for a more youthful, casual look. Ahhhh, so many looks! If you're really brave, wear it without an underneath layer (although maybe some tape!).
Linen is made from flax, and has all the properties we love of natural fibres like breathability. However, it is really flexible and apart from being prone to wrinkling, it's also prone to getting baggy intra-day. The knees on this will get baggier and baggier, but spring back when washed. Does anyone have any hints for avoiding this? To avoid a nightmare with a million wrinkles on bone dry linen, you should try to make sure you iron your linen before it's entirely dry. Or, you know, you could just rock the wrinkles – whatever suits you!
Someone at Glassons loves jumpsuits and overalls too - they have a huge selection. I also love this (much spendier) denim option from Kowtow, and think this Dotti version in a very on-trend gingham also looks great.